NurseCare Engage, powered by NurseCare.AI, aligns with a new generation of artificial intelligence (AI) powered technology commonly referred to as Digital Health Solutions.

Through simple voice-action commands, patients can alert the correct member of their care team in seconds. NurseCare Engage sorts requests based on severity and words used in the command so that urgent needs are prioritized over simpler housekeeping tasks.

By empowering patients to use their voice, care teams can better attend to each request without spreading themselves too thin.
"Hey Google, Ask NurseCare"
The Choice 360 bedside concierge covers patients 24/7 allowing providers to triage care by severity, improving response time, patient experience and outcomes.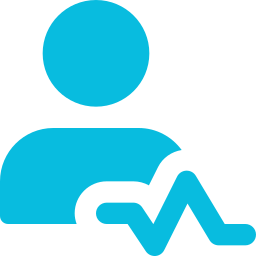 Assisted Living
Choice 360 allows patients to access their care providers with ease at any time using voice user interface (VUI). Efficiently staffing facilities and effectively responding to resident requests is simplified.

Home Care
Empower aging in place and improve the quality of care by offering conversational engagement outside of the traditional clinical setting. Anticipate crises before they occur with HIPAA compliant data analytics.

Independent Living
Residents experience confidence, comfort and safety knowing that they can access a care provider 24/7. This type of assistive technology helps seniors enjoy the benefits of today's virtual "smart-home" environment.
Call button response time has always been a challenging outcome measure for care providers
The overwhelming shortage in the medical provider workforce, COVID-19 pandemic, and surge of elderly people around the world are leading to increased clinician burnout
The pandemic has created a challenge for infection control, patient engagement and communication.
Traditional nurse call systems are outdated and lack the ability to produce accountable and actionable data.
Reduce response time up to 50% . Care providers have accurate data to serve patients  prior to entering the patient room or residence.
Improve operation efficiencies and reduce provider burnout with patient requests triaged to the appropriate care provide in real-time. Improving staff satisfaction will ultimately increase your patient experience.
Reduce the potential for hospital acquired infections (HAIs) and improve patient engagement by offering bedside VUI technology.
Complement or replace your current nurse call system  with Engage 360. Our dashboard offers a comprehensive view of all data in real-time.